A word of advice when packing for a trip to San Francisco
Happy #traveltiptuesday!
A word of advice when packing for a trip to the San Francisco Bay Area?
The rumors are true, LAYERS are in in San Francisco!
A baseball hat, leggings, t-shirt, hoodie, down vest and a scarf were truly my California staples during this trip! What they say about the weather especially in the San Francisco Bay Area, is true people. Don't let the Insta-famous fool you, the fog rolls in early and with it, a chill in the air. By the time lunch time rolls around, the sun is out and it's a perfectly sunny 85 degree day, the layers peel back until the sun starts setting and you'll find yourself layering up once again.
Sure, we all wish we could be like those cutie travel bloggers you see in off-the-shoulder tops, mini-dresses and full makeup. But the truth is, travel isn't always glamorous. In fact, mid-way through our trip we woke up at the butt crack of dawn driving two hours just to get a glimpse of the sun rising over the Golden Gate one particularly gorgeous morning. We literally left our tiny house at 6 am to beat Oakland traffic and that means packing up, grabbing breakfast on the go, throwing my hair up and running out the door.
When you're traveling you (often) quite literally have to toss those Instagram perfect aspirations aside in favor of something much more practical and comfy.
Peek my favorites:
1.) CASUAL
Hat: Patagonia Fitz Roy Trout Trucker Hat
Leggings: Insulated running leggings for women
Sweatshirt: Crew Neck UCal Sweatshirt - I actually typically prefer men's casual wear because it's typically looser and just comfier but of course it's all about what you feel the most comfortable in.
Down Vest: Bernardo Packable Down Vest - I originally found mine at Costco for about $25 believe it or not, about a year ago but they are tougher to find now. Try REI for more options, a little pricier but worth the investment. I bring one of these with me whenever I travel.
High top running shoes: Nike Air Max Thea Ultra Flyknit - I like these because not only are they super comfy but also super stylish! They add a little something to every comfy outfit whether I'm headed to the gym, the grocery store or on a hike to the Muir Woods! :)
2.) MID DAY
Shorts - Distressed Jean Shorts
Tshirt - Ruffle Sleeved Tshirt
Cool Accessories - Earrings & Necklace - choose one or the other and run with it!
Blazer - Kimono Blazer
3.) EVENING
Repeat blazer and earrings/necklace from above and then switch out shorts for pants, t-shirt for a tank and throw on some cute wedges!
Pants - White Jeans - I like to break the seasonal rules on this one ;)
Tank - Lace Camisole
Wedges - Mules
Stay tuned for more to come on our trip!
XOXO,
E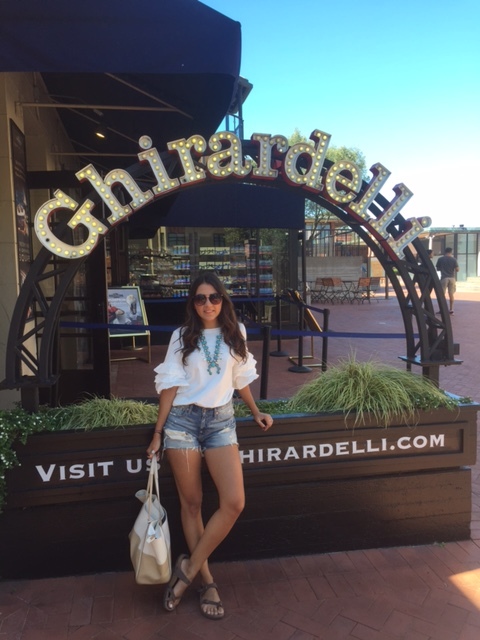 Battery Spencer State Park - Golden Gate Bridge
Golden Gate Bridge - View from Baker Beach
Golden Gate Bridge - Battery Spencer Park
Golden Gate Bridge - Battery Spencer Park Sunrise
Golden Gate Bridge at sunrise - FT. TB