Gold Branch Street Earrings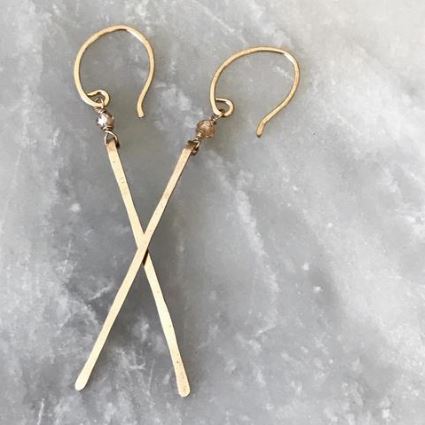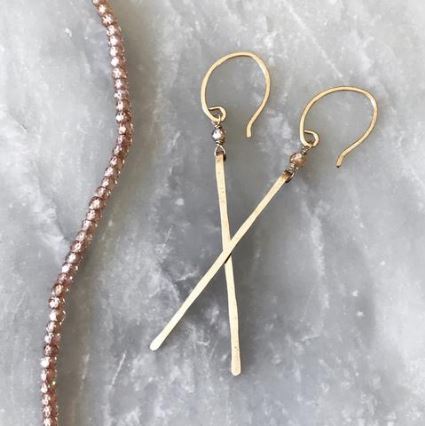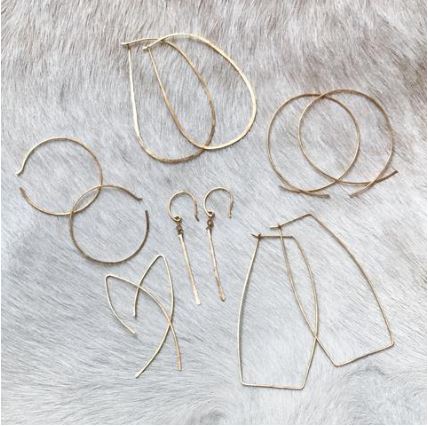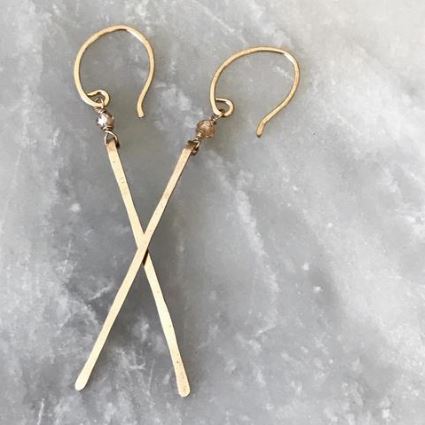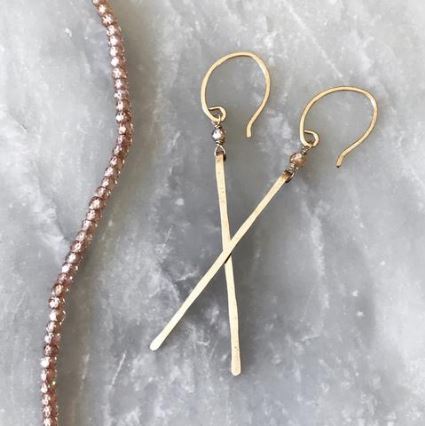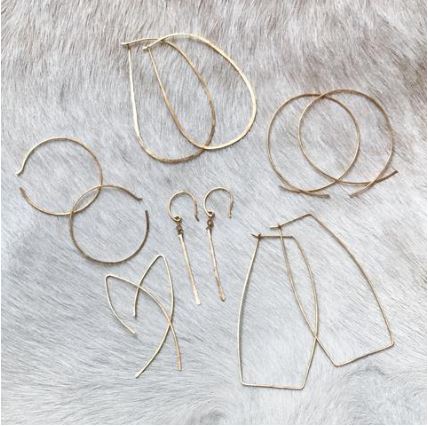 Gold Branch Street Earrings
Hand-forged, super skinny hammered 14 karat gf earrings, with natural gemstones for a bit of shimmer. These golden pencil earrings dance with your movement, reflecting so much light! Ultra thin + lightweight + 2.5 inches in length.
These hand-forged, hammered gold earrings are subtle and elegant, perfect for everyday wear or to dress up any outfit!
We love Amy DiGregorio's hand-forged gold earrings for a couple reasons:
A.) Each shimmering golden earrings is slightly different than the last and no two will ever look completely the same. This is (in our opinion) the beauty of owning these unique pieces.
B.) Santa Barbara designer, Amy DiGregorio is a woman after my own heart living in one of the most beautiful places in world, designing versatile leather and jewelry goods out of quality materials 100 percent by hand. Amy loves travel, authenticity and forging her own path with her designs, she also loves good food. She is the inspiration and creative force behind why we do what we do, to support small, minority and female artists in their endeavors so they can cultivate. consciously a life full of art, passion and beauty.
So whether you're looking to compliment your outfit with the perfect earrings, add a bit of boho to your everyday or spice things up for a night on the town, these gorgeous earrings are the perfect versatile addition to any jewelry collection.
AMY DiGREGORIO designs thoughtful goods from the highest quality leathers, precious metals, and gems. Our humble offerings are an homage to craftsmanship — everyday wear that is simple, considered, and made by hand.

After receiving her Fine Arts degree at the University of Massachusetts, Amherst, Amy moved out west to California. She lives in the sunny city where the mountains meet the coastline—in lovely Santa Barbara.

"Every stone, every leather hide, every package from AMY DiGREGORIO goes through my hands. It is important to me to create something of worth. I want my customers to wear their jewelry + bags proudly, knowing they are carrying something more than just stylish or useful or well-made, but also supporting a dream, and a very small business in beautiful USA."